👋 Hey Ladies! This is Erica, and I'm so EXCITED to Finally Pre-Launch the Women At Work course and monthly workshops!
✨I've been working on creating content for this course over the last few months, and I wish I had this when I was first starting out in corporate architecture and beyond.
I started my career at the largest architecture and design firm in the world and in one of the largest offices, so I saw and experienced A LOT early on.
When I first started - 😯 I was lost...
I was intimidated...
I was definitely scared of speaking up and talking in meetings... 
And for some reason, it always got worse when I was speaking to my older male colleagues.
I always felt like I could never be seen as "one of them" - until one day that all changed.

➡️ A shift occurred... ➡️
I started building my confidence with certain things I learned on my own and from other mentors. I could tell something I was doing was working... and it was.
I suddenly started to get put on ✨ high-profile projects, I was receiving invites to executive retreats, and to top it off - I became the youngest black female in the firm to Co-Lead a Practice Area! 😅 I was 25 at the time...
I was given many opportunities that hardly anyone else was getting my age, and I didn't really know why...
Until now.
Now that I have been dissecting my strategies, and presenting them to you inside this 💻 course.
There's no need for me to hold on to these strategies for myself now that I run my own design firm and company, It's time to give back.
🎉 So, here it is: The Women at Work Course! 🎉
I have pre-recorded my tips into quick and easy-to-digest videos for you to learn from and enjoy. 
So, if you have read up to this point, I have some quick questions for you:
❓ Are you in a male dominated industry or workplace and are struggling to find your place or voice in the studio, workplace, or job site?
❓ Is being one of the only females in your workplace environment making you feel disconnected and on an island of one?
❓ Are you struggling with communicating with your male counterparts effectively to promote comradery and respectful relationships?
❓ Are your insecurities stopping you from speaking up in meetings and moving up the corporate ladder?
❓ Maybe you just want to be a part of a community of other fierce female badasses in the Architecture and Design industry, and want to connect with others on a monthly basis during our live virtual meetings?
💪

IF YOU ANSWERED YES TO ANY OF THESE QUESTIONS, THEN YOU SHOULD SIGN UP TO THE WOMEN AT WORK COURSE (AND COMMUNITY)!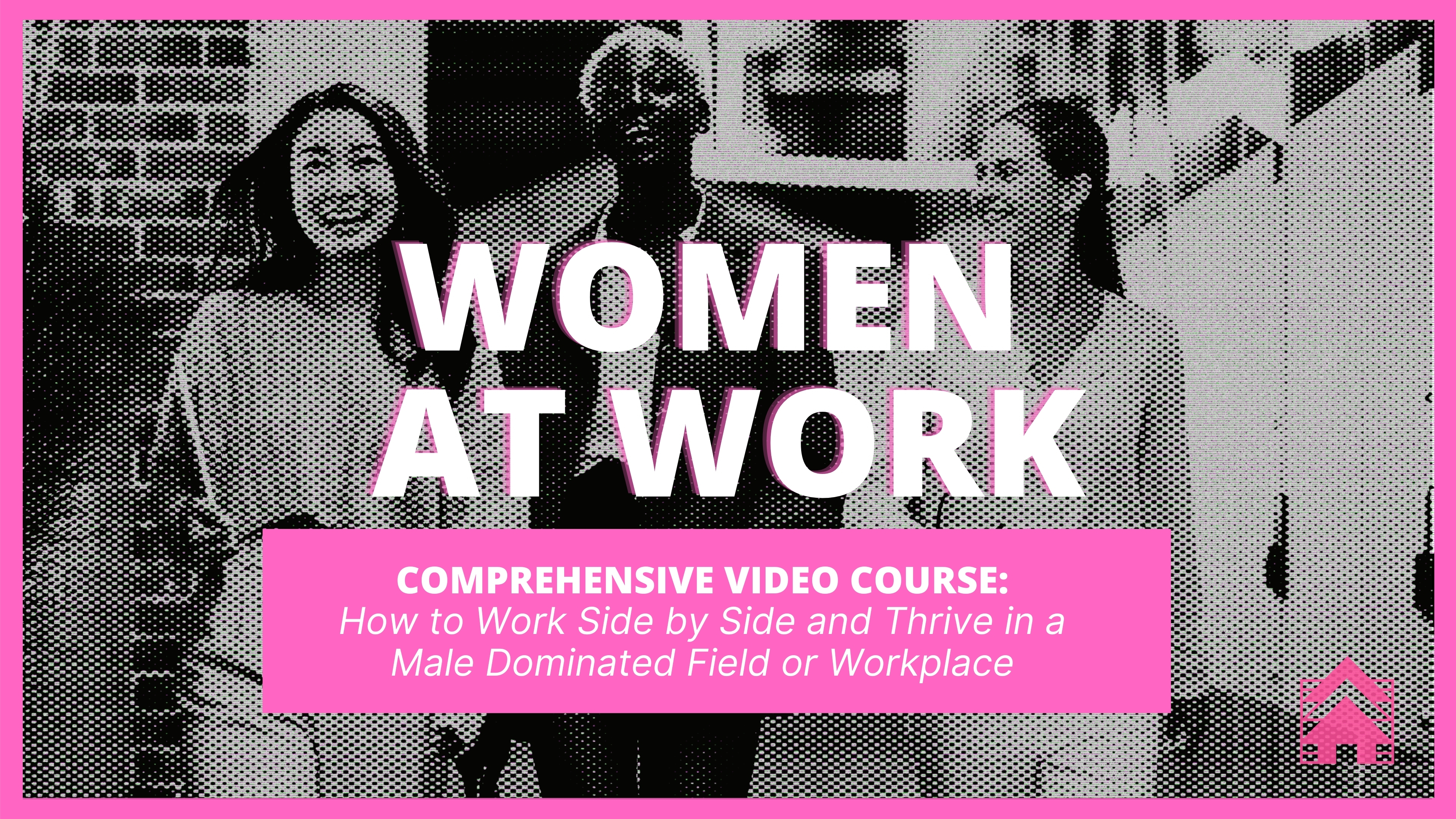 NOW ON PRESALE:
The Women at Work Course is NOW ON PRESALE! That means the lowest price ($18!) and crazy BONUSES.
MEET THE INSTRUCTOR - ERICA
Erica Williams has been on all sides of the spectrum of learning how to survive and thrive in the creative industry.
Her design portfolio includes notable projects like: Mercedes Benz-USA Headquarters, Boeing Defense HQ, Capitol One Banking Cafes, First United Methodist Church of Miami, and High-End Starbucks Cafes.


AS FEATURED ON:
JUST SOME OF THINGS YOU GET WHEN YOU JOIN TODAY:

✔️

Access to our Monthly Group Community Calls/Trainings where you can meet and network with female leaders in the design, art, real estate, and construction industry from all around the world and learn tips and strategies from Erica and Guest Speakers. 



✔️

Can't make it to the Live Trainings? No problem! You will also gain access to the video library to re-watch all of the trainings anytime, anywhere.



✔️

Access our private Facebook Community to learn and share your ideas/layouts with like-minded individuals from all around the world.



✔️

Proven tips and strategies to help you overcome your insecurities, doubts, and frustrations.



✔️

...AND MORE!
***ORDER TODAY AND GET INSTANT ACCESS TO WATCH THE INTERVIEW WITH RONNIE BELIZAIRE (DESIGNER + REAL ESTATE MANAGER + IIDA FELLOW!) BEFORE EVERYTHING ELSE IS LAUNCHED!

HERE'S A SNEAK PEEK OF THE CONTENT LIBRARY:
TO OVERVIEW AGAIN - HERE'S WHAT YOU GET TODAY!:
✔️ 

Lifetime Access to the Course Content

 

when we officially launch at the end of Next Month August 2021! Over 5 Modules of Real Life Tips and Advice.



✔️ 

Instant Access to the Ronnie Belizaire Interview:

 Watch the FULL Interview with IIDA Fellow, Former Project Manager at Gensler, and current Real Estate Manager at Mercedes Benz (Daimler): Ronnie Belizaire - AS SOON AS TODAY!



✔️ 

Lifetime Access to our Private Facebook 

Community where you can connect with other female badasses from all around the world. 


✔️

Access Links to our Live Monthly Trainings 

where you can meet and network with female leaders in the design, art, real estate, and construction industry

 



✔️ 

All of the above

 

for a 

One-time payment

 

of $18 yes,

 

only $18! 
😲 THIS PRICE IS A STEAL BECAUSE...
When the course officially launches next month, new members will be charged $45 for only a 3 month access and $12 a month after that for the course and community membership.
⏱️ I hope you take advantage of this offer while the price stays this low!
🔥 
$18 TODAY! 🔥
(Normally $45+)
✅ SO, ARE YOU READY TO CLAIM THIS PRESALE DISCOUNT? 
 JOIN OUR COURSE AND COMMUNITY BY SIGNING UP TODAY!


🎉 COURSE CONTENT RELEASES IN LATE AUGUST! 🎉


NOTE PLEASE READ BEFORE ORDERING:
This course DOES NOT guarantee workplace promotions, changes in your work environment or any other circumstance only in your control. We only equip you with tips and strategies and a community to help you grow as a female in a male dominated field. Results are on a person by person basis. Due to the nature of this course and our proprietary information inside, we can not provide refunds after 30% of the videos have been watched. WE ARE SORRY, BUT NO EXCEPTIONS.